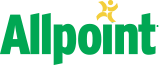 BSNB is part of the Allpoint ATM network.
Now you can use your BSNB Debit MasterCard® for surcharge-free transactions at over 55,000 ATMs worldwide. Use your current card to withdraw cash at major retailers wherever you see the Allpoint logo. No additional sign-up or action is necessary!
Where can I find Allpoint ATMs?
Click here to use our ATM locator. Or, download Allpoint's free app for your smartphone.
Frequently Asked Questions
Q: I saw the logo for Allpoint on an ATM but the machine was branded by another financial institution. Will there be a charge to use it?
A: You will not be charged. Transactions are free whenever you see the Allpoint logo.

Q: The surcharge screen appeared when I attempted a transaction. Will I be charged a fee?
A: No, the surcharge screen is there to notify customers of other institutions who are not participating in the Allpoint Network. Just press "Yes" to accept the fee and continue with your transaction. Your receipt will indicate that you were not charged the surcharge fee.

Q: I used a location on the ATM locator, but was still assessed a surcharge. Can I be reimbursed?
A: Yes, while it doesn't happen often, please contact BSNB Customer Service to request a refund.
*Apple and iPhone are trademarks of Apple, Inc., registered in the U.S. and other countries.